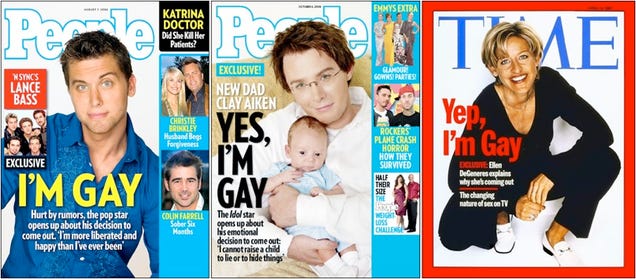 We're still reeling from the bombshell news that
singer Clay Aiken is gay.
We keep returning to the picture of his revelatory
People
magazine cover and pleading to unknowable gods for an answer. Why??? And— Wait a second. Haven't we seen this picture before? The cocked head, the casual yet frank declaration, the curious hair? Um, yes! Yes we have. On NSYNCer Lance Bass's
People
cover two years ago and comedian Ellen DeGeneres' big
Time
cover ten years ago. Same exact head position, nearly the same hair, and Clay and Ellen even have that little extra "Yes" or "Yep"—that same sheepish sense of "yeah, I know you knew, I'm just sayin' so it's out there and all." Bass didn't get one of those folksy affirmatives because, we suspect, he was still laboring under the illusion that people weren't sure about his sexuality. Or maybe
People
magazine was. Gay rumors dogged him, to be sure, but not in the same way that they followed DeGeneres and Aiken. So is this the way to come out on magazines? I mean, straight dudes would
never
do that head tilt, right? Oh, and where in the heck is
Lindsay Lohan's
cover?