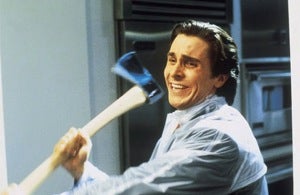 Depressing and sort of end-of-the-economy timely word comes today that Brett Easton Ellis' 1991 novel
American Psycho
—about a Wall Street banker in the 1980's who is a crazed serial killer in his spare time—is
being made into a stage musical.
You'll remember that the book was adapted into a movie starring Christian Bale back in 2000, and that it featured a looming score of various recognizable 80's tunes. This prompted producers to decide that, hey!, it could be a musical extravaganza! To that end, we hope they turn it into a Huey Lewis jukebox musical. Maybe Christian Bale could be in it! We already know he can
sing and sort of dance.
(Also, we feel forced to add: As if theatre ticket prices weren't killer enough!) Our favorite Huey clip is after the jump.