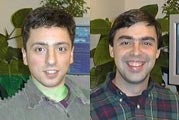 Say what you will about Hubert "
Third Google Founder
" Chang, at least he dropped some links to the old homepages of Sergey Brin and Larry Page back when the pair were teaching Computer Science 349 at Stanford, "
Data Mining, Search, and the World Wide Web
." What's there?On Larry's page, dug up through the Internet Archive, he declared "
I attribute a great deal of my understanding and ability with mechanical devices to Legos and similar construction toys
."
Brin's page has a laughable GIF animation
, but the real humor is that he apparently worked on an early copyright-infringement detection system called COPS with Stanford professor Hector Garcia-Molina. Brin even posted
his resume from 1994
, and a quick peek into the source code reveals a telling tidbit — hidden in a HTML comment, Brin states as his employment objective: "A large office, good pay, and very little work. Frequent expense-account trips to exotic lands would be a plus." Looks like his dream came true.