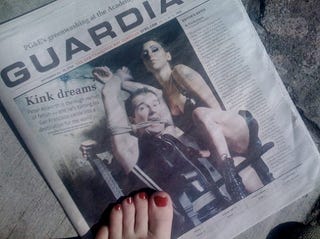 San Francisco's
Kink.com operates just like any other startup
— young folks everywhere, DJ booth in the break room, plucky office vibe — except there's way more ass-fucking. That's the story from inside The Armory, the imposing 200,000-sq. ft. "castle" at Mission and 14th Streets. The Armory's dungeonlike interior is the base of operations for CEO Peter Acworth's fetish-porn production company. What began as a shy British boy's experiments — building "fucking machines" and getting girls from Craigslist to ride them — has bloomed into a business that allowed him to buy his own playland for $14.5 million. Kink.com is the cover story for this week's
San Francisco Bay Guardian
. If you're not up to speed on the whole fucking-machine scene, here's a one-minute SFW text primer:
"On first glance inside, the place is almost disappointingly tame." Watching porn performers and support staff breeze around prepping for a shoot, in flip-flops and ponytails, is probably the only breakout fetish genre yet to have a site devoted to it. Kink actually did produce a behind-the-scenes show, BehindKink.com. The name was prone to misunderstanding.
"The models aren't actors." Don't kid yourself — anyone paid-to-play for a camera is performing, even if the end product is billed as "reality." Even if the actors involved have that same kind of sex off the clock. Despite the Bay Area's fetish for overdocumentation, very few people have an actual fetish for the camera itself. You want to watch a performance, even if you also want to believe the folks on screen "really are having a good time." Call it Porno's Paradox.
"Kinky.com: Following the Web 2.0 trend of user-based content, Kinky.com will allow members and models to maintain user profiles, interact with one another on message boards, blog, and even date." It sounds like the obligatory social network that even less-ambitious porn companies feel oblige to hitch to their content wagons. At best, it'll give members a way to connect in person and live out the scenes they could previously only see on pay-per-view. Why sit home and poke when you can yes yes we know, we're done with that joke, too. Plus like we'd imply you shouldn't get laid for free.