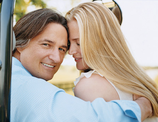 Multimillionaire CNET founder Halsey Minor is in the news again, for another spat over his expansive art collection.
Portfolio
explains
that Minor got into an "angry email exchange" with famous artist Damien Hirst. There are now "gaping, fist-size holes in the plaster walls" of Minor's San Francisco offices, where Hirst's work used to hang. This comes
as Sotheby's is suing Minor over a disputed art auction
. After the article ran online, Minor left a rambling comment quibbling with details. But he never disputed the story's central question: Has Minor spent so impulsively and unwisely on art, real estate, new startups, and a new wife (Shannon, pictured with Minor, above), that he's running short on cash? He doesn't answer that. Instead, he declares himself "the baddest psycho in bass fishing." The comment seems as delusional as this moment he recounts in the story:CBS chairman Sumner Redstone walked past him at the Bel-Air Hotel, shortly after CBS bought CNET for $1.8 billion. Minor hasn't been at CNET since 2000, and wasn't involved in the sale. So why would he expect Redstone to recognize him? Nostalgia? Pity?
Portfolio
reports on Minor's many difficult relationships; he told the magazine that Gateway founder Ted Waitt, formerly an investor in one of Waitt's startups, is no longer a friend. Add to the list of those difficult relationships: Minor with facts.
(Photo by Rob Howard/Portfolio)