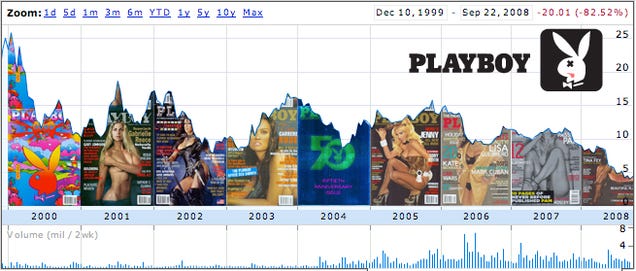 Ailing nudie mag
Playboy
is awesome! First, we love it for the articles. Second, with the rise of abstinence-only education in schools,
Playboy
serves a practical purpose as practically the only form of sex ed left in some parts of the country! Third, sometimes one needs their porn to be portable, able to be carried in backpacks and stuffed under beds. (This is where the Internet fails.) How else would our nation's 2 million prisoners sneak a look at contraband girlie pics? The magazine isn't doing well,
the Telegraph reports
, with the economy tanking, YouPorn, and lackluster profits on its pay-per-view flicks. Even worse, it's been reported that 2 out of 3 of Hugh Hefner's girlfriends are cheating on him. Which brings us to the question:
how can it be cheating if he has three girlfriends
? Whatever. Click for our chart of its limping profits, very much in need of Viagra.