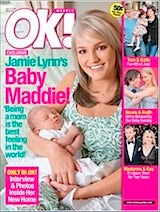 As if celebrity babies didn't face enough perils — paparazzi, feuding celebrity parents, ill-advised playdates with Michael Jackson — they now have to keep a weary little eye on the stock market. Because amid Wall Street meltdown and the worst advertising decline in seven years rumors are now swirling that the undisputed highroller in the market for pictures of famous infants, OK! magazine, is cutting off payments for exclusive shots of the little tykes. (Sure, the fees usually went to charity, but you can't put a price tag on adulation.) New general manager Kent Brownridge has allegedly said "no more picture buying, and to keep readers interested we will have to 'get creative,'" a disgruntled staffer told Page Six. Underlings are no doubt praying Brownridge doesn't confirm another rumor and squander the savings hiring boss-from-hell Bonnie Fuller to replace a departing Sarah Ivens. Reports the Post:
Fuller insisted nothing was afoot. Via e-mail, she said, "I think Kent is terrific and I wish him all the best in his new position. I'm very happy working on my new venture, Bonnie Fuller Media."
Read: "As if Brownridge could meet my seven-figure demands."
We told you subprime protocelebs like Julia Allison and Emily Brill would eventually torpedo the AAAs!