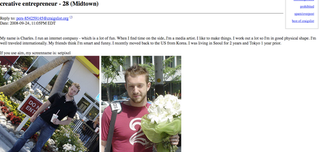 Let's just admit that we've all placed a personal ad on Craigslist at one time or the other. Only the last thing you want to do in that situation is post your photo in the ad, because what if someone you know saw it and recognized you? OMG that would be so embarrassing... hey, Charles Forman! The
Iminlikewithyou
web boy (and Julia Allison ex, although we'd bet good money that their relationship was never "consummated") is looking for love...
on Craigslist
! We'll help him out by posting his ad for a wider audience.He describes himself as a "creative entrepreneur" who lives in "Midtown." He "run[s] an internet company-which is a lot of fun. When I find time on the side, I'm a media artist... I work out a lot so I'm in good physical shape." Hey-o! So, ladies, we'll vouch for Charles. He's funny and can probably afford to buy you dinner. We met him once and he smelled nice. He's been
in an Esquire fashion shoot
. (Oh, and
despite many photos that would hint otherwise
, he is not Tumblr founder David Karp's gay lover.) Act now! (Caveat: as a commenter just pointed out—if you break up with him, he might
humiliate you in public.
)