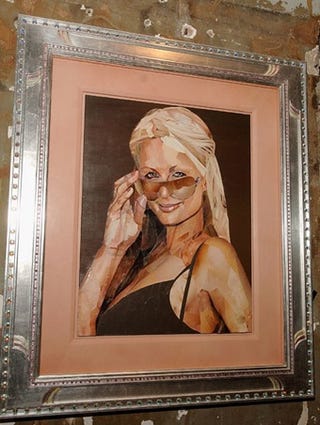 So, um, here is a portrait collage of famous famous person Paris Hilton, crafted entirely out of old pornographic magazines (like
Under the Mattress Monthly
and
Behind the Old Record Collection In a Manila Envelope In the Downstairs Rec Room Quarterly
). It is the work of the artist
Jonathan Yeo
, who has done portraiture of many other famous folks.
According to Fox News, via The Superficial
: "Yeo was offering Hilton proceeds from the sale of the posters as a 'lighthearted' gesture because the hotel heiress has said she didn't receive any money from the notorious 2004 sex video that starred her and then-boyfriend Rick Salomon." Nice. Click for larger.