It's Mahalo founder Jason Calacanis's world, we just have the misfortune of living in it. The former Silicon Alley Reporter publisher decided to quit blogging, instead opting to send out
his verbose fonts of wisdom as emails
. Take his latest 2,948-word missive, "
(The) Startup Depression
" — claiming that anywhere from half to four in five startups will fail thanks to the current economic crisis (or at least,
will blame their failure on the economy
). Apparently
Calacanis asked that the post be taken down
. Because of
a principled stand for intellectual property
? Because SAI's publisher was getting the pageviews and Mahalo wasn't? Or because Calacanis can't take the heat in a public forum? The fight that broke out in the comments between Wallstrip creator Howard Lindzon, Blodget and serial entrepreneur Scott Rafer suggests the latter.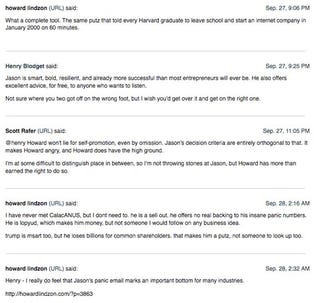 Awesome.