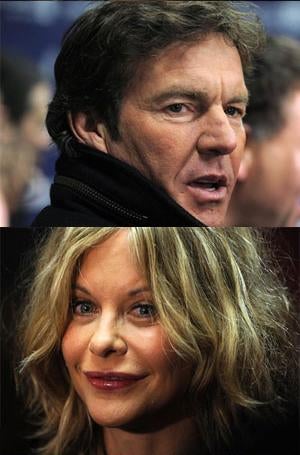 After Meg Ryan spiced up her press tour for The Women by dropping infidelity bombs about ex-husband Dennis Quaid, the only question was whether the actor would decline a rebuttal, instead letting his patented "constipation face" speak volumes. Instead, Quaid spoke out to the NY Daily News , and though he didn't deny the allegations, he did attack Ryan for dredging up the past:
"It was eight years ago, and I find it unbelievable that Meg continues publicly to rehash and rewrite the story of our relationship," the actor tells us exclusively. "Also, I find it regrettable that our son, Jack, has to be reminded in a public way of the turmoil and pain that every child feels in a divorce." Quaid, who went on to marry real estate agent Kimberly Buffington and have twins last November, adds: "I, myself, moved on years ago and am fortunate to have a happy, beautiful family."
Why, is that a thinly veiled shot at Meg and her lovely adopted daughter,
Oprah Winfrey Ryan
? Be careful, Dennis: you can shut her down in the press all you want, but Meg Ryan will never be afraid to give you some lip (after all, she's got plenty to spare).
[Photo Credit: AP]