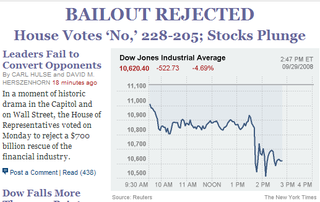 The bailout bill?
It didn't pass the House.
The vote went 228-205 against, with 95 Democrats and 133 Republicans opposing the Paulson/Dodd/Frank/Pelosi/Blunt plan. Insane. The Dow is self-destructing. The
roll call vote is here
, the list of members who voted against the bill can be found below. So what now? It'll go back to another vote in the House. Maybe. Something weird happened here, by the way, because in the modern era, votes don't go to the floor of the house until party leaders know how the rank and file will vote. Bills don't make it out of committee unless they're going to pass. This was either too volatile and rushed to work, or Pelosi lost control of her own party, or Boehner lied to her about how many House Republicans were going to grin and bear it. So. Now, because of the Jewish Holidays, nothing will get done until Wednesday. "Asked about the next step, Financial Services Chairman Barney Frank (D-Mass.) said it would be up to those who opposed the bill." That is troubling! Basically, nothing can get done until the election is done. Which is still a bit of a ways away! So let's hope this collapse of the entire financial sector can hold off, for a few weeks, while either
another
almost-identical bailout bill is drafted and pushed through or Dems create their own fuck-you bill that maybe
nationalizes everything like Krugman and Brad DeLong want.
(We like that option!) (It's a fantasy, but a guy can dream.) The Dems, obviously, don't want to make this a one-party bill, because then they'll own the "HUGE BAILOUT." But, you know, they could draft an entirely different plan (the Dodd/Frank plan as proposed originally seemed sufficiently different from the Paulson "plan" to warrant a different name) and try to reframe the debate as Paulson's BAILOUT versus their tough love or whatever, but their majority is too small and their instincts too chickenshit to do that. So basically they'll muddle along as the banks burn, or something. Maybe we'll all be fine! Who needs credit anyway. ANYWAYS President Obama is going to inherit one hell of a shitshow. Abercrombie Aderholt Akin Alexander Altmire Baca Bachmann Barrett (SC) Barrow Bartlett (MD) Barton (TX) Becerra Berkley Biggert Bilbray Bilirakis Bishop (UT) Blackburn Blumenauer Boustany Boyda (KS) Braley (IA) Broun (GA) Brown-Waite, Ginny Buchanan Burgess Burton (IN) Butterfield Buyer Capito Carney Carson Carter Castor Cazayoux Chabot Chandler Childers Clay Cleaver Coble Conaway Conyers Costello Courtney Cuellar Culberson Cummings Davis (KY) Davis, David Davis, Lincoln Deal (GA) DeFazio Delahunt Dent Diaz-Balart, L. Diaz-Balart, M. Doggett Doolittle Drake Duncan Edwards (MD) English (PA) Fallin Feeney Filner Flake Forbes Fortenberry Foxx Franks (AZ) Frelinghuysen Gallegly Garrett (NJ) Gerlach Giffords Gillibrand Gingrey Gohmert Goode Goodlatte Graves Green, Al Green, Gene Grijalva Hall (TX) Hastings (WA) Hayes Heller Hensarling Herseth Sandlin Hill Hinchey Hirono Hodes Hoekstra Holden Hulshof Hunter Inslee Issa Jackson (IL) Jackson-Lee (TX) Jefferson Johnson (GA) Johnson (IL) Johnson, Sam Jones (NC) Jordan Kagen Kaptur Keller Kilpatrick King (IA) Kingston Knollenberg Kucinich Kuhl (NY) Lamborn Lampson Latham LaTourette Latta Lee Lewis (GA) Linder Lipinski LoBiondo Lucas Lynch Mack Manzullo Marchant Matheson McCarthy (CA) McCaul (TX) McCotter McHenry McIntyre McMorris Rodgers Mica Michaud Miller (FL) Miller (MI) Mitchell Moran (KS) Murphy, Tim Musgrave Myrick Napolitano Neugebauer Nunes Ortiz Pascrell Pastor Paul Payne Pearce Pence Peterson (MN) Petri Pitts Platts Poe Price (GA) Ramstad Rehberg Reichert Renzi Rodriguez Rogers (MI) Rohrabacher Ros-Lehtinen Roskam Rothman Roybal-Allard Royce Rush Salazar Sali Sánchez, Linda T. Sanchez, Loretta Scalise Schiff Schmidt Scott (GA) Scott (VA) Sensenbrenner Serrano Shadegg Shea-Porter Sherman Shimkus Shuler Shuster Smith (NE) Smith (NJ) Solis Stark Stearns Stupak Sullivan Sutton Taylor Terry Thompson (CA) Thompson (MS) Thornberry Tiahrt Tiberi Tierney Turner Udall (CO) Udall (NM) Visclosky Walberg Walz (MN) Wamp Watson Welch (VT) Westmoreland Whitfield (KY) Wittman (VA) Woolsey Wu Yarmuth Young (AK) Young (FL)