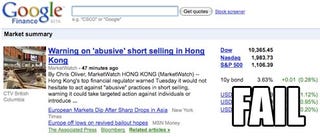 Folks watching the financial meltdown on Wall Street on Google Finance yesterday might not have freaked out as much as everyone else because Google was providing erroneous data,
even about its own share price
. Rather than a $50 drop, the site only showed a $40 drop for GOOG,
though still well under $400
. The numbers were fixed this morning just in time for the open of the trading day. No word from Google on what went wrong. The good news for Google shareholders is that the share price has climbed in after-hours trading —
at least according to numbers from Yahoo Finance
, which reported correct numbers the whole time.