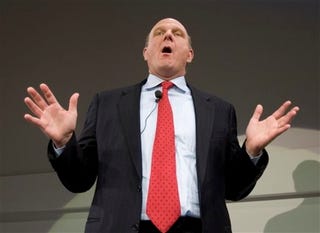 Microsoft CEO Steve Ballmer and his online services lieutenant Kevin Johnson couldn't finish the Yahoo merger negotiations they started on January 31.
Microsoft's annual filings reveal
the pair will pay for their failure with their bonuses. Johnson, who left the company in July, was promised a bonus between 97 percent and 100 percent of his salary and will earn only 97 percent. Ballmer, who was promised a bonus between 100 percent and 200 percent of his salary, earned a 109 percent bonus. Oh, to be a mediocre CEO and failed strategist at Microsoft: Though it's down a bit from last year, Johnson still earned $6.8 million in total compensation. Ballmer pulled a total of of $1.35 million on the year and still owns billions worth of Microsoft stock.
(Photo by AP/Sarbach)