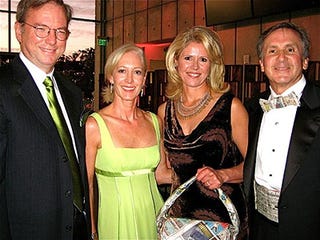 Last week's opening gala for the new Renzo Piano-designed California Academy of Sciences building in Golden Gate Park was graced by Google CEO Eric Schmidt actually with wife Wendy Schmidt and Shawn Byers with Kleiner Perkins Caufield and Byers VC hubby Brook Byers.
The Byers even had accessories crafted from the San Francisco Chronicle's funny pages
. Care to craft a better headline? Leave it in the comments and we'll judge the entries harshly, promise. Yesterday "BoothRank == 0" from
Athletic Supporter v0.42beta
evaluated to true.
(Photo by Catherine Bigelow/
7x7
)