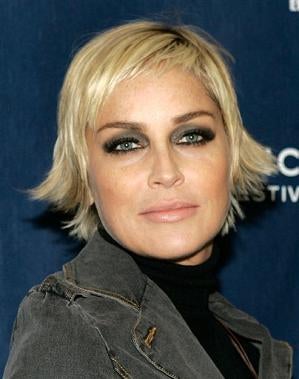 When Sharon Stone
lost custody
of her eight-year-old son Roan last week, we were surprised; yes, the actress has had an erratic year that involved blaming
"karma tectonics"
for the death of 7,000 Chinese, but sole custody is rarely awarded to the father in these cases. Could it have been Stone's new relationship with a
greasy 24-year-old
that turned the legal tide against her, or was it something more? According to
TMZ
, which obtained the court's "Tentative Statement of Decision," it was a whole range of factors, though all may pale in comparison to the smoking gun proffered by ex-husband Phil Bronstein: that Stone wanted to Botox her son.
And then the court says, "Another example of an overreaction is that Mother suggested that Roan should have Botox injections in his feet to resolve a problem he had with foot odor. As Father appropriately noted, the simple and common sense approach of making sure Roan wore socks with his shoes and used foot deodorant corrected the odor problem without the need for any invasive procedure on this young child." ...The judge goes on: "Unfortunately, the problem caused by Mother's overreactions is painfully real for this child."
Of course, Stone was simply passing on a red carpet trick known by most actresses: a couple shots of Botox under the arms, and you can avoid pulling a humiliating
"Meg Ryan"
in public. Sure, mere
socks
may accomplish the same thing, but would those qualify Stone for the family discount with Dr. Lipschitz?
[Photo Credit: AP]