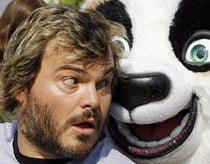 · Jack Black will soon reunite with the writers of
Kung Fu Panda
, teaming up on an untitled comedy about a man who wakes up
sans
memory on Cuban shores only to deduce he's a superspy. Yuks, partial nudity and
Bourne
-franchise comparisons ensue. [
THR
] · If you are the least bit sleepy, we recommend skipping to the jump. Ready? OK: SAG is expected today to approve a measure requesting a strike vote, most likely sometime after the new board is seated later this month. We warned you, didn't we? Wake up! [
THR
]
After the jump
:
Mamma Mia!
conquers yet another country, George Lucas goes director shopping, and Michael Sheen goes to
Wonderland
.· After months of controversy over how George Lucas might integrate a jive-talking Hutt sibling into
Red Tails
, his film about the Tuskegee Airmen, the world sighed with relief as the producer handed off the directing reins to the more modest ex-
Wire
and
CSI
helmer Anthony Hemingway. [
THR
] · Psst! Hey buddy — wanna buy a lion? Or, like, part of a lion? [
Variety
] · In its fourth week of release in Korea,
Mamma Mia!
dispatched a native hit to overtake the top box-office spot, nudging its ABBA Global Conquest™ war chest over $450 million to date. [
Variety
] · Biopic veteran Michael Sheen is joining the casts of both the Samuel L. Jackson thriller
Unthinkable
and Tim Burton's
Alice in Wonderland
, prompting observers around Hollywood to wonder what tony British cultural figure might be hastily written in to do acid with Johnny Depp. [
Variety
]