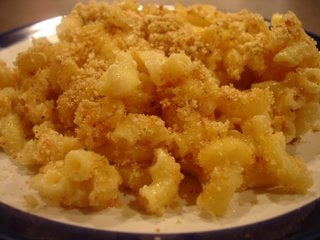 Back from 2001 downturn, it's the "comfort food during a recession" trend piece! Hey, writers, if you're assigned this topic, here's a peg: an "exclusive all night diner" is to open in dazed, freakoutnomic Manhattan: "Socialista mastermind Armin Amiri has decided to open an all-night diner—with a guest list from 11 p.m. to 4 a.m.,"
reports the Observer
. Filling the hole left by the democratic late-night Florent with "upscale diner food"? Irritating, but it might be perfect for the market right now: based on the sheer number of trend pieces, it is evident that people love (or can only afford) mac and cheese during hard times. Don't believe us?
From 2008
:
The Tennessean
, July 28: "Comfort food and a comfortable atmosphere seems to have appeal in a tougher economy. On the flip side, past boom times have led to expensive and outrageous fare. "When times buckle down, people say, 'You know, I just want to feel comfortable, secure and warm."
The Early Show
, Feb. 5: "So the fact is we want comfort food in our high-end restaurants. Again, please, take me to that place...where I can be secure and familiar... Now here's another really important part about the comfort food, and this is what—where we get to our recessionary times."
New York Times
, Jan 31: "Unlike previous portrayals of the late '50s and early '60s as a time of unalloyed optimism, fashion's latest embrace of the past appears to reflect the nation's darkening mood. ''It is the fashion equivalent of comfort food — I think we need it... things are timeless right now, or you want them to be."
Seattle Times
, September 17: "We've been around a really long time and actually, if you look at the history of the 5 Spot, when they started, the goal was to create a recession-proof restaurant. And it's working. People go back to comfort food in hard times."
San Francisco Chronicle
, September 28: "In a Union City factory that twists out 150,000 pounds of Red Vines licorice a day, plant manager John Nelson is betting that $10 million in capital investments, made when money flowed freely, will help his 240-person plant prosper through tough times. "We won't call it recession-proof, but licorice has always held its own. It's kind of a comfort food."
From 2001:
New York Times
, Nov. 4: "We ate high on the hog and low on the calf. We ate our way through the Eisenhower recession, the Cuban missile crisis, Vietnam, the assassinations of J.F.K., R.F.K. and Martin Luther King Jr., through Watergate, the Persian Gulf War and the Clinton crisis. Recently a journalist friend was on the street, covering the World Trade Center disaster. She ordered a sandwich, saying: ''Don't bring me any fat-free mayonnaise. If the world is coming to an end, I want the real thing.''
New York Times
, Dec. 26: "Comfort food and blue-plate diner dishes showed up all over town, sure signs of a looming recession, but the door was wide open for a chef who could make simplicity seem like an inspiration rather than a limitation."
New York Times
, Jan. 26, 2002: "There was a lot of talk after 9/11 about what was going to be palatable for audiences, that people were looking for the theatrical equivalent of comfort food. I felt that way too."
BBC
, July 30: "Food manufacturers, retailers and utilities will also be cushioned from the worst effects of any recession."