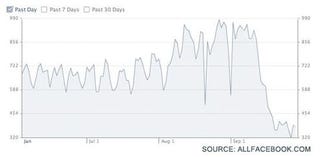 One goal of the Facebook redesign was to kill pointless widgets that cluttered user-profiles. It's working. When Facebook launched its platform last year, AllFacebook's Nick O'Neil created your typical one-trick app: the Bush Countdown Clock. All it did was sit on a user's profile like a badge, and yet it attracted and maintained over 50,000 users. But with Facebook's redesign, O'Neill's widget and other simple badges like it were moved to a "boxes" tab on user profiles. After the redesign went permanent on September 11, traffic to the countdown clock dropped 60 percent almost overnight.
Writes O'Neill
: "Widgets have not survived the shift over and my guess is that within a matter of weeks we will see most top-performing widget applications practically disappear." In December 2007,
VC Ross Levinsohn said 2008 would be all about "Facebook plus widgets."
Maybe that sort of poor prediction explains why he and partner Jon Miller
can't find their pot of gold
?