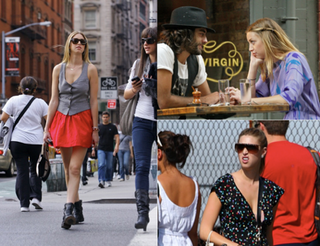 Move over,
Kirsten Dunst.
Whitney Port is the new queen of New York! Or, at least, of New York "celebrity" gawking. A back-up player on MTV's reality soap
The Hills
, Port works for fearsome fashion PR maven Kelly Cutrone and is
filming her own New York-set reality soap show called The City, also starring socialite (I think?) Olivia Palermo!
There have been lots of paparazzi photos of the cow-eyed blonde floating around photo agencies lately, and we've received several
you are there
Stalker sightings in the past few weeks. Though, I guess, some of those "sightings" may be carefully planted PR mumbojumbo. Cause, you know, PR folks tend to do that. Read and decide for yourself after the jump.
Oct. 1
"Just saw Whitney from the Hills at Delicatessen on Prince & Lafayette. Looked like she was filming her new "reality" show as the film crew took over an hour to set up."
Sept. 27
"Saw her at the corner of 17th & 5th, I was on my cell asking where City Bakery was. She stopped to tell me it was one block up and said, 'Sorry, I overheard you asking, and it's just one block up.' She was super sweet and much shorter and tinier in person, but still really pretty even without make-up."
Sept. 14
"Gold Bar / Sunday night (1am monday morning), Whitney and Lauren from The Hills."
Sept. 13
"Saw Whitney Port of 'The Hills' at La Esquina on Kenmare last night around 10pm. She was eating with friends, all very normal looking and there were no cameras, bodyguards or anything. She was super sweet and friendly as I said approached her when I was leaving. Told her she was the only redeeming character on the show and she repeatedly said 'thank you'"
Sept. 10
"Whitney Port from The Hills at the W Hotel on Lexington and 49th street at 2pm. dont know if your care about this chick, but she is staying here."
Sept. 5
"I saw Whitney from the Hills at Mercer Kitchen today (9/5) around 1pm. She was wearing leopard print SHORT-shorts that you could see straight up when she walked up the stairs to leave. I ran into her in the bathroom as well where we had a short convo. She is much thinner in person than I imagined. And prettier. Amazing skin. She said she was going to be in NYC for a while. Hills spoiler??" Real or fake, the lady is suddenly everywhere. And yet we've managed to completely miss her. Maybe it has something with our never leaving the house.
Hiiiiiii Whittles!!!!
Images: Left & top right via Bauer-Griffin, bottom right via Splash