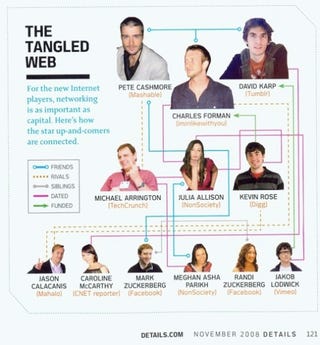 It's complicated.
God, is it ever. The same October
Details
story that follows around New York's "
Internet playboys
" and their bicoastal hangers-on runs with this chart of who dated, funded, or hated in this overdocumented side of the Web scene. So sweet to know we're not the only ones keeping a scorecard, but one of its subjects, Caroline McCarthy,
claims
there's
inaccuracies
! Let's do
Details
and the kids recently fanning their fameballs from the coverage a favor and fix it up then. Ready? Let loose in the comments with your errata.