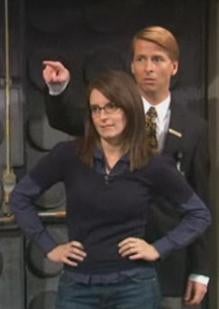 After the landmark ratings success that was the 2008 Summer Olympics, NBC was anxious to capitalize on the momentum they had built leading into the fall. However, despite all that promotional exposure,
Beijing Ben
and the NBC team haven't yet been able to convert in the ratings department:
Knight Rider
tanked
,
Chuck
and
Life
both saw
their ratings dip
from their 2007 premieres and
The Office
could only
muster a third-place finish
in
its lovey dovey season premiere
last week. However, there is a bright spot; the network has gotten big bumps in both the awareness and ratings department thanks to the white-hot star power of homegrown talent Tina Fey. While fans will have to wait until the end of the month for
30 Rock
to return to the air, NBC has been satiating America's desire to see its new Emmy sweetheart by repeatedly trotting her out during its late night lineup. She has appeared as Sarah Palin on
SNL
not
once
but
twice
and, last night, she made a cameo appearance along with Julia Louis-Dreyfus in a bit that can only be described as the ying to Ricky Gervais' and Steve Carell's
faux Emmy duel
yang. Watch NBC's clear cut MVP hitting another one out of the park after the jump.