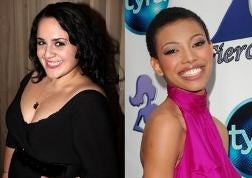 Last we heard from Nikki Blonsky, she
blew off talk
of her and her family's recent skirmish with
America's Next Top Model
contender Bianca Golden (and her subsequent arrest) with the gentle rejoinder that the truth would come out in the end. And while it may or may not be the "truth," something perhaps far more special
came out today
when Golden finally spoke out to Tyra Banks about that fateful moment in the tropics when the
Hairspray
actress lashed out and the reality star "
done decked the girl out, Tracy Turnblad
":
"My aunt had two babies in her arms, and she told my aunt, 'You can leave. You can go away,'" Bianca recalls. "I was really upset by that because my aunt and I are close."
When Bianca spoke up, Nikki turned to her and said, "'You need to mind your business. You don't know what's going on.' She went off," the model says. "There was a lot of words exchanged. I got really defensive." [...] "Before my mom could walk away from us, her father ... punched my mom," Bianca tells Banks. "He knocked her out. He hit my mom with such force she stumbled back, and when she stumbled back, the whole family got up and attacked my mom." Bianca said Nikki then kicked her mother in the crotch. "That's when my mom fell ... completely," Bianca says. "Both the families were arguing. It was like a scene out of a movie. Airport security finally came and separated everybody." All the while, Bianca claims the Blonsky family were spewing racial epithets at them. "Her father and mother started saying, 'They got rabies, they got rabies!'" says Bianca.
Again, the truth will come out in a laid-back Turks and Caicos court, probably one of those seaside numbers with a bartender named Pilar and stacks of complimentary towels. But even
if
Ma and Pa Blonsky were misheard attributing "rabies" instead of "babies" to Golden's aunt, we're fairly confident that a kick in our mom's vagina is not the kind of thing we're going to forget — especially when Mom reportedly goes to the hospital with "a broken nose, fractured skull and internal bleeding." There are any number of ways of interpreting it, of course — you can take the girl out of the Coldstone, but you can't take the stone-cold out of the girl, etc. etc. — but if we can't get these clans a deal to reboot
Family Feud
the way it was
meant
to be seen this millennium, then really, there are no winners here.