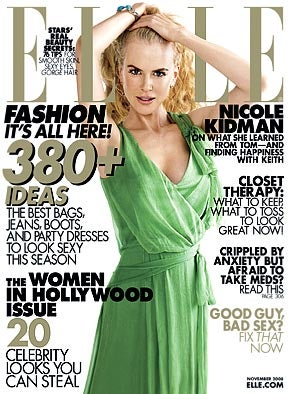 Here at Defamer, we have a well-documenter love of salty old battle axes (hi, Cloris Leachman !) so props must be paid when one goes above and beyond the call of duty in providing us with entertainment. This week's recipient of our wizened love is Hollywood veteran Lauren Bacall, who adds a much-needed dash of (blue) color to Elle's upcoming profile of Nicole Kidman. While the Botoxed beauty is in a magnanimous mood, acknowledging her pleasure that ex Tom Cruise has found a "more profound" love with Katie Holmes, Kidman's former costar Bacall isn't one to mince words, and she jumps in to call Cruise a "maniac":
Seeing Cruise move on was tough, however: Her pal Lauren Bacall says that Kidman was "unhappy" on the set of 2003's Dogville. "Tom had taken off for Penelope Cruz or some goddamn thing — one of his more ridiculous moves," Bacall says. Taking a slight jab at the actor, she tells Elle, "Tom Cruise is a maniac. I can't understand the way he conducts his life."
Lauren, Lauren, Lauren, Lauren, Lauren. Unless you've personally —
personally
— walked in the size 8 shoes of the
United Artists owner
, how can you hope to understand the method behind his mania? When Bacall makes her next trip to Spago hiding
knee bruises
under her Oscar de la Renta sheath, we won't exactly be surprised.