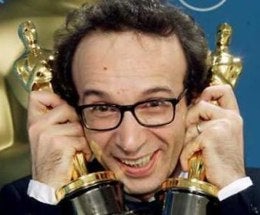 Entertainment Weekly
embarked yesterday on "
Recall the Gold
," a project likely to result in its most complex listicle to date: The magazine's editors organized a mock vote by 7,000 industry insiders invited to reconsider the Academy Awards given in 1983, 1988, 1993, 1998 and 2003. The ballot includes only the six "major" categories — Picture, Director and the four acting awards — and, in editor Sean Smith's words, represents "voting without buzz." For starters, you won't see New Line hitting its
Lord of the Rings
campaign (or
any campaign for that matter
) quite as hard five years after its Best Picture win, and Harvey Weinstein won't be able to buy
Shakespeare in Love
's Oscar success from 10 years ago. All of which is sure to arouse dormant Hollywood justice even as it arouses the more fundamental question: Who gives a shit?Let's be specific, though: Even as we hate the hype, we love the Oscars. We love their glamour and mythology and the internecine
Rudin/Weinstein bloodbaths
— all of it. We particularly love that the Academy is the imperfect, short-sighted body that it is, because it affirms its own irrelevance without us having to do the heavy historical lifting in its losers' defense. Think
Ordinary People
over
Raging Bull
,
Forrest Gump
over
Pulp Fiction
, etc. The idea that Academy voters ever got anything "wrong" is the most enduring, baffling myth of all, the outgrowth of willful ignorance that the Oscar phenomenon is anything but an annual glimpse at Hollywood's mood ring. Smith mentions being inspired by
Brokeback Mountain
loss to
Crash
, but when you treat the Oscars as what they really are — not the actual "best" of anything — revoting only reinforces the saw that justice delayed is justice denied. It's not just the winners then or now who signify that, either; even the nominees always exclude some of the most impressive work of any given year — the films and performances not designated worthy of awards pushes by studios or the critics who work in begrudging concert with them at the end of every year. "Oscar purism" is an oxymoron, as likely to reward the five most conspicuous cola brands as it is the five "best" films of any year. It doesn't make our Oscar party any less fun. Just the opposite, in fact, especially after seeing Paul Haggis claim his hardware sends us careening to the bar. But we doubt you need us to tell you any of that, and anyway, "Recall the Gold" is coming whether you want it or not. Ian McKellen will probably overtake Roberto Benigni's 1998 Best Actor prize (itself a memorably annoying surprise we wouldn't trade for anything), but were there really better performances nominated in 1988 than those of Dustin Hoffman or Jodie Foster? And would you even want to revisit that class of nominees (hint: Melanie Griffith) if your life depended on it? Thankfully it doesn't, and you don't have to. And that means
all
of you — revoters, toss those ballots.