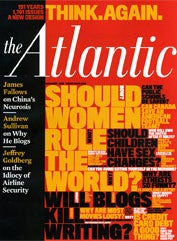 It seems like
just last April
that the venerable old
Atlantic Monthly
(wait, sorry, it's just
The Atlantic
now) launched a web-focused redesign based on the helpful input of presumably expensive "brand consultants." And, what do you know, it was just last April! But now we're in phase two of the magazine's makeover, which means increasingly insane covers and slightly more attractive blogs for their hundred bloggers (NB: we do actually like most of their bloggers, especially
Ta-Nehisi Coates
,
James Fallows
, and crazy
Andrew Sullivan
—all better than
TNR
, basically).
Here's the announcement!
But will this
save the magazine?
While the
newish Harper's website
fits that magazine's fusty, "who needs to turn a profit anyway" aesthetic (and subscribers get full access to the indispensable indexed archives),
The Atlantic's
recent branding campaigns don't seem to have anything to do with the magazine's identity, whatever the hell that is anymore (plus:
300 articles for $100
with nothing from 1964-1992 just doesn't compare to the
Harper's
deal.) Honestly the
Atlantic's
identity crisis still stems from the move from
lame Boston to miserable DC
followed by a new focus on, you know, politics, though that crisis has actually produced what might be a better magazine with more interesting (to us) features. And hey, the website looks good, the new logo is a cool appropriation of their '60s logo, and the mag redesign will probably look very nice (unless it's as pointlessly busy as that first cover). Still, a massive ad campaign and a expensive rebranding for a smart current events mag seems a bit '90s, right? BUT! Atlantic Media also owns the expensive subscription-only political trade journals of
the National Journal Group
! And if there is a market for political journalism in this nation, that is the model, so far, that seems the best able to weather the storm. So, thankfully,
Global Security Newswire
will subsidize Andrew Sullivan well into the Obama administration and on until he turns conservative again.