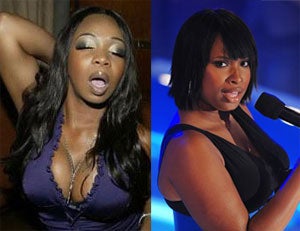 Jennifer Hudson is an Oscar-winning singer/actress, so of course it makes sense that she would marry a castoff from the second season of VH1's low-rent The Bachelorette takeoff, I Love New York . Sadly, New York (also known as Tiffany Pollard) was not invited to the blessed union between J-Hud and her new groom, David Otunga (nee "Punk"), but she helpfully weighed in anyway, via In Touch Weekly :
The New York Goes To Hollywood star says she's skeptical about the Dreamgirls actress' engagement to Harvard Law School grad David, who competed for Tiffany's affections on I Love New York 2 under the name Punk. "He's really loving being Mr. Jennifer Hudson. I think he's loving the lavish things she brings to his life, he's seeing the world due to Jennifer's success," Tiffany tells In Touch. "[But] can you love this person if they lose all of this tomorrow? She needs to find out. I just hope people are marrying each other for the right reasons."
Then, New York broke out the Star Jones/Al Reynolds comparisons and catty body image slams:
New York's not optimistic about the couple's future. "It's a mixed match, it won't work," she says. "He'll be in her shadow like Al Reynolds was to Star Jones, like Stedman Graham is to Oprah." There's also a good reason David wasn't the right match for Tiffany on I Love New York 2. "When we were in Miami together, he didn't even try anything [on me]!" she says. "Maybe I wasn't his type, maybe I wasn't big enough for him."
New York, save your misapplied aggression for the
crafts-services table
. As Oscar and
American Idol
royalty, Jennifer Hudson is not to be messed with — she's got the gays (
mostly
)
and
the
U.N
. at her disposal!