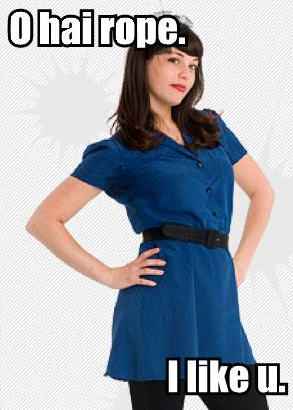 I love the word "penultimate." So forgive me if I use it repeatedly in reference to tonight's commenter live-blog, which is the penultimate posting party for the penultimate episode of this season. Let's just hope it's not the penultimate Project Runway episode of all time. (C'mon Harvey — get all those lawyers together in a room and make it work!) At 9 pm Eastern, it'll be time for this
penultimalooza
to get started. Then
penultimania
will break loose! (If either of those words becomes popular, just remember that I coined them here, OK?) Until then, let's revisit a few highlights from last week:
Making the final four must be a tragic experience, because the finalists cried like little babies. Presumably, as the previously eliminated designers watched this episode, they felt a deep sympathy for the finalists' sad fate, tinged with relief that they avoided a similar one.
For the botanical challenge, every commenter predicted Kenley would do a floral print. But she used what looked like some kind of reptile skin instead.
The judges, apparently entranced by whatever Santería spell Kenley cast over her reptile before she killed and skinned it to construct her garment, decided to let her stay another week, along with everyone else. (It was the old "nobody loses" trick — or what I like to call a "rip-auf.")
Also, having watched the preview clips, I offer these three "things to watch for" as we all live-blog tonight:
1)
As in every penultimate episode, Tim Gunn will hit the road in a Saturn to check on the finalists in their homes. So it's a good thing Korto lives in Arkansas now instead of Liberia, because if the Dead Milkmen can't drive a bitchin' Camaro to the Bahamas, Tim Gunn sure as hell can't drive a Saturn to Africa. (Remember the Dead Milkmen? Yes, I am old.)
2)
Kenley will tell a shocked Tim Gunn, "I'm into rope." This suggests that, for Kenley, the Bettie Page connection goes a little deeper than a hairstyle.
3)
Um … I forgot the third thing. I was too busy thinking about Kenley saying "I'm into rope." And with that, we've reached the penultimate sentence of this post. That must mean … that this is the last sentence, I guess.