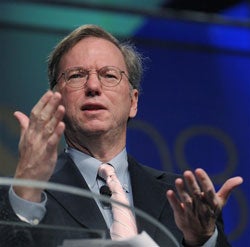 "Brands are the solution, not the problem.
Brands are how you sort out the cesspool
," Eric Schmidt told an audience of magazine publishers assembled at Google yesterday. Wait, what happened to the magic Google algorithm that reverse-engineers our reputations? Does it now rank pages by
brand
, too? I hope so, because when I Google myself at midnight all I see is Valleywag, Valleywag, Valleywag. I'd like to believe Google knows something my agent doesn't.
(Photo by AP/Phelan M. Ebenhack)