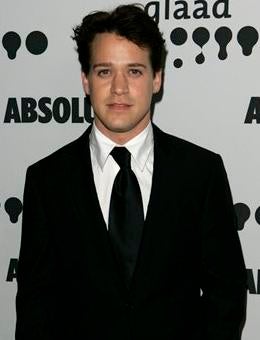 It's often said that gays are on the cutting edge of most trends, but when it comes to
defeating California's Proposition 8
(which would thwart the same-sex marriage laws enacted this summer), most out celebrities have fallen pitifully behind their straight allies. The first high-wattage Hollywood name to donate to the "No on 8" name was
Brad Pitt
, whose $100,000 donation was quickly matched by
Steven Spielberg
. Now, after straight B and C-listers including Pete Wentz and Chelsea Handler gave money to fill the gay gap,
The Advocate
brings word that
Grey's Anatomy
power-gay T.R. Knight has finally become the first high-profile out star to contribute to the cause. So who's still missing?Perhaps the most notable M.I.A. gay is Ellen DeGeneres, who has sounded off about Prop 8 on the talk show circuit, but has yet to donate to the cause (though she did find time to
host a fundraiser
for the animal rights-advocating Prop 2). Other gay mafiosos like Portia DeRossi, Rosie O'Donnell, and Elton John are still nowhere to be found on the donations list, while behind-the-scenes gay talents like Gus Van Sant and Bryan Singer are missing, too (for that matter, straight allies like
Jay Leno
and
Julia Louis-Dreyfus
have advocated against the proposition but have yet to put their money where their mouths are). Their inaction comes after Tuesday's announcement that contrary to earlier reports, Proposition 8 is
ahead in the polls
and likely to pass next month, dealing a massive blow to the gay marriage cause. Backed by religious forces, the "Yes on 8" financial war chest has far exceeded that of the organizations working to defeat the proposition. Ohio entrepreneur Jonathan Lewis has challenged Hollywood power players to donate, promising that he and his family will match the contributions dollar for dollar — though the only notable gay figure to donate since was
Angels in America
playwright Tony Kushner, who gave $15,000. Hey, Ellen? Pretend it's adorable puppies who can't get married. Got a dime to spare?
[Photo Credit: AP]