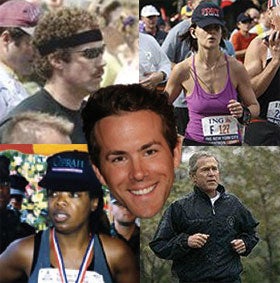 Ryan Reynolds hit the fundraising circuit running — literally — in
an essay today
on
The Huffington Post
, where he opened up about his training for next month's New York Marathon. There, despite vowing to avoid such events after once observing an epidemic of runners' bleeding nipples, the newlywed is racing on behalf of Michael J. Fox's foundation to fight Parkinson's Disease. But while we applaud his determination in battling 26 miles of nipple-chafe, Reynolds is running for more than just a good cause. He's also trotting into a celebrity pastime with a rich tradition of its own, competing against the likes of Will Ferrell, Katie Holmes, Diddy and even David Lee Roth's six-hour slog through New York in 1987. After the jump, find the ten swiftest boldfacers who ever laced up a pair of track shoes. Train harder, Ryan — and happy bleeding!
MEN
1.
Dana Carvey
, 3:04:21 (Ocean to Bay Marathon, 1972) — Carvey is the only hint this marathon ever existed, though with photographic evidence scarce, we reluctantly place him at the top of the list of the World's Fastest Celeb Marathoner. 2.
Björn Ulvaeus
, 3:23:54 (Stockholm Marathon, 1980) — The ABBA co-founder also engineered a revolutionary antecedent to the Walkman and iPod, trademarking the waist-cinching Phonostrap to blast LP's on his high-energy training runs. 3.
William Baldwin
, 3:24:29 (New York City Marathon, 1992) — Before Alec divorced Kim Basinger, he was the only Baldwin brother to finish a marathon. 4.
George W. Bush
, 3:44:52 (Houston Marathon, 1993) — In an eerie harbinger of things to come, finished in 158th place but was declared the winner anyway. 5.
Will Ferrell
, 3:56:12 (Boston Marathon, 2003) —
Trained naked
, obviously, but ran the marathon in full Alex Trebex regalia (see above).
WOMEN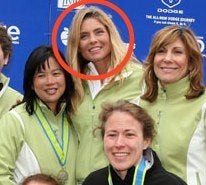 1.
Kim Alexis
, 3:52:00 (New York City Marathon, 1992) — Would likely have broken 3:40 if not for the mid-race "stretch break" with Baldwin. 2.
Oprah Winfrey
, 4:29:20 (Marine Corps Marathon, 1994) — Wanted to get in shape for her internationally televised
Oscar humiliation
by David Letterman less than four months later. 3.
Lisa Ling
, 4:34:18 (Boston Marathon, 2002) — Cost her
View
co-host and compulsive marathon-better Barbara Walters $1,200 when she couldn't finish under 4:30. 4.
Katie Holmes
, 5:29:58 (New York City Marathon, 2007) — If she finished at all.
We're not so sure
. 5.
Ali Landry
, 5:41:41 (Boston Marathon, 2002) — The former Miss USA vowed to finish the marathon if it was the last thing she ever did. And with the exception of her
short-lived series on the WB
, it pretty much was.