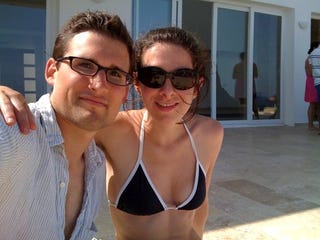 You can never escape the media! Valleywag's
favorite hot-tech-company couple
, Facebooker Dave Morin and Googler Brittany Bohnet, weren't vacationing in Cyprus alone. A whole group, "
Campcyprus
," attended the get-together in the Mediterranean island's Turkish-controlled sector. And who was in the in crowd?
Wall Street Journal
reporter Jessica Vascellaro, who covers Facebook and Google, and
her startup-founder boyfriend
, Drop.io CEO Sam Lessin, the son of ultrawealthy investment banker Bob Lessin. Sam, who's normally obsessed with privacy, posted this photo of the couple. So cute!And now I know why I got an out-of-office message from her when I complained about her nicking not one but two of my recent stories on Facebook for a
Journal
article! But I would have been more impressed with Vascellaro's honesty if she had said that she was going to Cyprus with "sources" rather than, as she Twittered, "
buddies
." Catch Vascellaro's cameo in Bohnet's latest video: Cyprus Lip Dub - Don't Stop Believing from
Brittany Bohnet
on
Vimeo
.
(Photo by Sam Lessin)