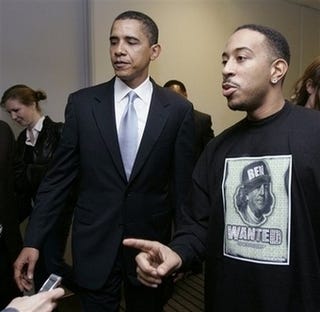 Barack Obama purchased a full half-hour of airtime on CBS and NBC. His very special infomercial is set to air Wednesday, October 29. John McCain probably can't afford to do this! It's also not unprecedented: Ross Perot did it, and it was hilarious and awesome. Also they used to do it all the time in the 1960s. But jeez, a half-hour is a long time! We hope he has a musical guest or something?
Here is the best part of this news:
"The buy will push CBS comedy 'The New Adventures of Old Christine' to 8:30 p.m. and pre-empt 'Gary Unmarried.' NBC typically airs the hourlong 'Knight Rider' in the slot, and will likely throw in a comedy repeat at 8:30 p.m." Thank you Senator Obama for preempting
Gary Unmarried
! Change you can believe in! In response, Senator McCain is going to co-host an infomercial for the Flavor Wave Over Turbo, which will air at 5 a.m. the following morning on
Lifetime.