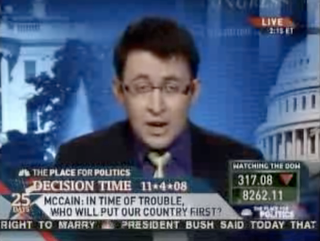 Can anyone on McCain's side speak for more than a minute without royally screwing up? There's "
my fellow prisoners
," everything Sarah Palin says, and the
generally increasing ugliness of the whole campaign
. It's infectious. Yesterday
American Spectator
managing editor J.P. Freire went on MSNBC to explain away the "Terrorist!" and "Kill him!" chanters, and to accuse the Obama camp of pulling "the hate card." He then went on to admit that, "If McCain and the Republicans really did believe that it would help them to be raving racists, we'd be seeing a lot more of this." Then the
bigger
stumble: "Unfortunately, though, no one wants to be a racist." Yes, yes, we know he meant to say "Fortunately." Clip after the jump. Starts at about 2:01.