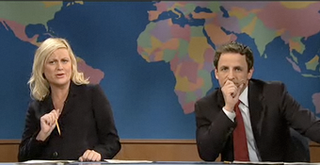 Okay, this is about a day late, but what the hell, it's still funny. On Thursday,
Saturday Night Live
aired a special 30-minute midweek episode. Why? I dunno. But the highlight was Thursday's version of Weekend Update, in which anchors Amy Poehler and Seth Meyers discuss AIG's gala executive retreat in another installment of "
Really
?!" Clip after the jump.
Click to view