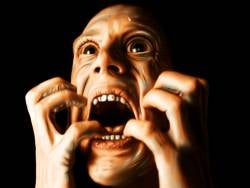 When the whole Wall Street meltdown thing was first breaking last month, some ad execs
waved the whole thing off
, saying the market might be a bit "soft" momentarily but that it would surely spring right back into shape. So, how's it looking a month later? Well it's all good, except for how
nobody can sell TV ads
and ad agencies are
laying off
hundreds of employees and media sellers are trying to figure out how they can
politely start asking
for all payments up front. Let's take a brief look at the sunny indicators, shall we?:
Say a big company has been working with a media seller for decades. Sorry dude: they know your weak company is broke. Pay up front. "If a client came in now that has been in the headlines wanting to do a deal to make customers feel good, you might ask for prepayment."
"'The first quarter will be really scary,' said one media-agency executive, adding that it would be especially bad for TV."
Local and national TV ad buys are down, which have indirectly already led to things like Sumner Redstone being forced to sell off $400 million in stock. Anybody scared here? "'It's really hard to argue that only part of the ad market's catching colds,' said Michael Nathanson, an analyst at Bernstein Research. 'It's really a scary time," he said, adding, "It's going to get worse.'"
Also, you're fired. "Over the past week, several firms, including Starcom MediaVest, TBWA/Chiat/Day and Landor have issued pink slips to their workers."
But as long as the ad industry continues to crater, at least one reporter at the
Wall Street Journal
will have a job.