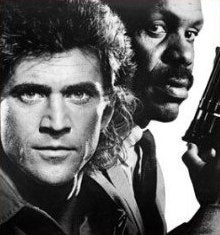 In these rapey-sequel times, it takes a real man to stand up against the bloated revivals of franchise whose glories are long past. And while we'll assume that there is more to the implosion of
Lethal Weapon 5
than just one jilted director's story, we'll take
Richard Donner's perspective
for now as some of the most reassuring news we've heard since doctors disclosed that Indiana Jones would recover from his
violent auteurist tag-teaming
last week. Saving it from Joel Silver's own heat-seeker makes it all the better.The film would have been the first installment in the series since 1998, when
Lethal Weapon 4
grossed $285 million globally for Warner Bros. Original
Lethal Weapon
screenwriter Shane Black had a script out to Joel Silver, who wanted Black to direct after their collaboration on
Kiss Kiss Bang Bang
. The rest is speculation — which is just fine with Donner, who is on the outs with Silver and hypothesized that Mel Gibson vetoed the project himself out of loyalty to his six-time director:
"I would like to think that Mel turned it down because I wasn't involved. Knowing Mel, I would like to think that. Would that be the kind of thing he does? It sure would be." ... "Joel Silver tried to ace me out of it. He tried to put it together but made sure he didn't do it until my contract was up. You know, it's typical of the man. A guy who wasn't even around at the beginning when we started on the first one. He came in late."
In our perfect world, we imagine the actor forgoing the project after calculating the combined age of the Donner/Gibson/Danny Glover braintrust at 182 — younger than the Spielberg/Lucas/Ford trinity's 188 as they consider their own franchise's ill-advised fifth installment, but still. We'll take
any
rationalization if it means we don't have to see Silver forcing Glover to squeal like a pig two years from now on
South Park.
Crisis averted.