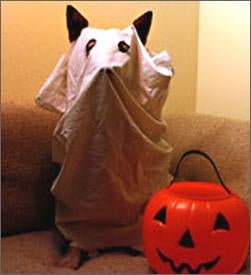 Man, Halloween is going to
suck
this year. A hollow-eyed populace, hobbled by the Wall Street meltdown and unable to afford real costumes, will just wander the streets aimlessly, their kids draped in old bedsheets or festooned with cardboard cutouts in the rough shape of a pirate hat, begging their poverty-stricken neighbors for a boiled egg or a pinch of precious table sugar. Even the corporate bloodsuckers—who normally use Halloween as a marketing opportunity, to drain every last cent out of us in order to blow it on worthless Candy Corn futures—can see what's happening. The only monster this year is
ourselves
:
But for millions of Americans, the credit crisis and the stock market turmoil have taken more of a toll on their lives than any werewolf, warlock or witch. So ads for Halloween 2008 are focused more on frugality than fright.
LAME.
"Get hauntingly great savings on Halloween candy, décor and novelties," proclaim circulars for the Rite Aid chain of drugstores. Other ads also borrow from the usual Halloween clichés, but add in the retailers' own gimmicks.
IS NOT SCARY.
"No tricks, only treats," promise ads for Pulte Homes, which offers "monster savings" like a free year's membership to the local homeowners' association if a contract is submitted by Halloween.
Like we said: Halloween is going to suck. [
NYT
]