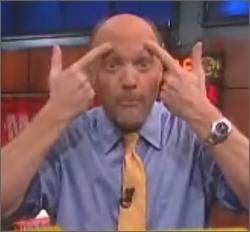 Jim Cramer has changed his mind! Just last week, you may recall, the shouty CNBC stock picker
appeared close to tears
as he begged Americans to pull all the cash they'd need for the next five years out of the crippled stock market. Well, whatever, that was last week. Now he says that we've already reached "
the beginning of the end of the crisis.
" That sure was fast! This, of course, is in line with his (physical and intellectual) penchant for wild gesticulation. Let's take a brief look back at Mr. Cramer's unpredictable recent past, shall we?