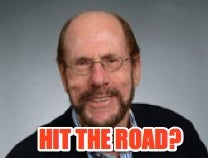 In our inbox, rumor of a staggering blow to one of Silicon Valley's new growth industries: Tesla Motors, a tipster tells us, is laying off 100 people, about half of its staff. CEO Ze'ev Drori is also leaving, he claims.
Update:
Tesla VP Darryl Siry called Wednesday morning to tell us that the number our tipster supplied is "exaggerated" and that the company is "refocusing" to get through "a tough nine months." Sad: A few years ago, electric-car enthusiasts talked up the Valley as the new Detroit, home to a vibrant new automotive economy. Last month, Tesla had
set plans for a $250 million electric-car factory in San Jose
, along with a new headquarters.But autos are an expensive business, thoroughly dependent on free-flowing credit for their manufacture and sale. Tesla's high-end electrics, a status symbol in good times, now seem excessive; who wants to drive a $109,000 car into a half-empty parking lot? Siry says that the company's moves aren't driven by demand, which remains healthy.