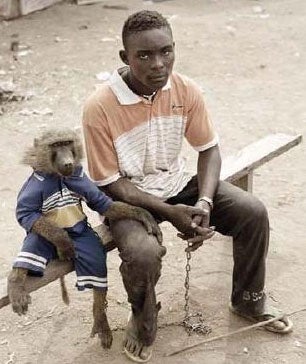 Nikki Finke
ran a story yesterday
about a controversial portrait hung in UTA's new 4th floor gallery. The project is the brainchild of partner Jeremy Zimmer—whom, she points out, has courted controversy before, back in the days when he'd ignore "the complaints of women...when he used to urinate out the window of UTA's old offices." (Is that an issue? We've never heard a peep out of the smog-test facility guys beneath Defamer HQ.) The photograph in question, "Dayaba Usman With The Monkey Clear, Nigeria 2005" (pictured above), was taken by a South African photographer of some renown, Pieter Hugo. Some staffers were offended, and
demanded it come down
:
I'm told that, shortly after, a group of UTA employees comprised primarily of African Americans complained to the tenpercentery's human resources department that the image was "derogatory" to blacks.
"Collectively the employees of color now feel uncomfortable and unwelcome," one of the staffers emailed me when it happened. "This is not the first time racial discrimination has been exhibited at United Talent Agency, but it is the first time that it has been put on public view."
A discussion followed in which Zimmer tried to defend the artist's pedigree, but no matter how articulately he described the portrait's sensitive encapsulation of the African condition, all the employees could see was a sad looking black guy chained to a monkey. Zimmer eventually capitulated and relocated the piece to his office, allowing only A-list clients to get lost inside Dayaba and monkey's soul-piercing gazes. The affronted agents, meanwhile, went back about their baby-gobbling pursuits.