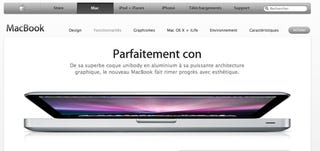 Vive la résistance!
We don't know if Apple France intentionally tweaked their American overlords, or just screwed up. But for a while, Apple's French website
described the newly launched MacBooks
as "parfaitement con," for which a very polite translation is "perfectly idiotic." The page now reads "parfaitement conçu," or "perfectly conceived." If you thought Apple was all about obsessive attention to detail, be aware that product promise only applies to English-language material.