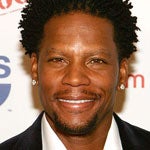 · The lines between hard news and whatever it is CNN is doing continue to blur: D.L. Hughley will host a "news-driven comedy" show on Saturday nights that will offer a "skewering take on news and events." Let's sample the material: "There have been six movies with a black man as the president, and in all those movies, the world was coming to an end. If this election isn't art imitating life, I don't know what is." Yeah. Fuck off. [
Variety
] · NBC has beaten out ABC in the race to nab David E. Kelley's new series, described as "a father-daughter drama." [
THR
]
After the jump: Which Funniest Woman Alive is making a return to series TV?
· Mark Burnett is shooting the pilot for
Rouletter
—a complicated game show that involves a roulette wheel covered in letters—in South America. They are currently on the hunt for contestants who won't respond to the host's enthusiastic opener, "So, are YOU ready to play
Rouletter
?!" with a quizzical, "¿Qué?" [
Variety
] · Amy Sedaris has signed a deal with 20th Century Fox TV to write and star in a new single-camera sitcom, which she'll co-create with
Strangers With Candy
's Paul Dinello. Fuck yeah. [
THR
] · Comedy Central is producing its first "fantasy comedy" (if you don't count
Imaginationland
).
Krod Mandoon and the Flaming Sword of Firea
will star
Little Britain
's Matt Lucas and
Meet the Spartans
's Sean Maguire. [
THR
]