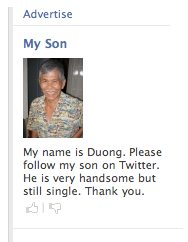 Facebook's vaunted ad-targeting system, the buy-your-own ad tool meant to menace Google's $20 billion-a-year monster money machine, has become a joke. What only Internet-industry insiders seem to realize: It allows such minutely detailed targeting that people are now using it as a timewasting trick to amuse their friends — or total strangers. Underemployed rich kid Sam Lessin — yes, the one whose investment-banker dad provided the stage set for
Camp Cyprus's Internet-destroying seaside frolic
—
created an ad meant to target his girlfriend
,
Wall Street Journal
reporter Jessica Vascellaro. Gizmodo, a gadget website, has had an intern hopeful targeting a Facebook ad at employees of Gawker Media, the publisher of both Gizmodo and Valleywag, for months. And now some fellow has started
promoting his son's Twitter feed
.The campaign isn't doing much for Johnny Nguyen of Crescent, Calif. Despite the ad, he only has eight followers on the microblogging site, which doesn't speak well for Facebook's efficacy as an advertising platform. But it does suggest a future for Facebook. Google is where people will go when they want to purchase customers. Facebook is where bored people will pay to entertain their friends, and lonely people will pay to feel like someone's listening to their Internet rants. Money can't buy you love, but it may get you a Facebook friend. Think of the money spent on 900 numbers by people who just want someone to talk to, and you can imagine the potential.