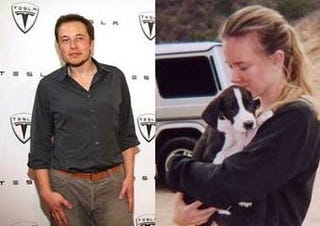 It's typical for aging entrepreneurs in mid-career to acquire a fancy new set of wheels. Elon Musk has instead
acquired a job running a fancy carmaker
— Tesla Motors, the electric-car startup he has backed from the get-go with the millions he made selling Internet companies. He is also getting a divorce,
according to a blog post by his wife, fantasy novelist Justine Musk
. This is no mere tawdry personal detail.Do the geographical math. Until Justine threw him out this summer, the couple lived in a Bel Air mansion with their five children. Los Angeles is clearly a better locale for Justine to pursue her writing career. Tesla is based in the Bay Area. Word swept the Tesla office of a pending divorce after Elon showed up to the opening of Tesla's Menlo Park showroom with a "twentysomething actress," one attendee said. How he managed to pursue an affair while meddling in the affairs of Tesla and his other company, space-exploration startup SpaceX can only speak to Musk's off-the-charts time-management skills. His decision to fire Tesla's CEO and take over the job himself just means more time away from his family. Only Elon and Justine know all the reasons why they are divorcing. And which came first — did Elon decide to throw himself into his work after realizing his marriage was a failure, or did his obstinate workaholism jeopardize his marriage? Either way, it beggars belief to think the divorce wasn't a factor in the uproar at Tesla. That will be no comfort to the employees who will soon be laid off by a CEO going through a midlife crisis.