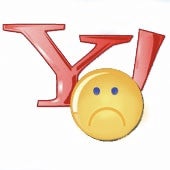 A tipster tells us that Yahoo plans to cut 3,500 jobs, chiefly in sales and finance, on December 10 — while keeping plans for a multimillion-dollar holiday party days before the cuts:
I work in the finance org at Yahoo and have learned that the layoff date is Dec. 10. Finance will be cutting 50% of the workforce, engineering 10%, and sales and the rest of G&A [general & administrative] 25%. The company sent an invitation today for the annual holiday party on December 6 (four days before the biggest downsizing in the company's history ~3,500 jobs). The holiday party is held at the San Mateo Convention center with a Las Vegas gambling theme. [It will] cost millions of dollars. Where is the fiscal responsibility?
Our source also confirms that the company is slashing severance packages, a move CFO Blake Jorgensen has argued for:
I guess Jerry Yang feels that maybe he would have better luck betting the whole company on a Las Vegas table than he has at running it. As you reported, our CFO is cutting the severance packages (I guess so he can fund the multimillion dollar holiday party). Employees are outraged and are planning to boycott the party. Maybe they should have surveyed the employees to see if they wanted to attend one party or get better benefits in their layoff packages. My finance peers should get their resumes updated as 50% of us will be leaving.
The departures are already happening, from what we hear. Rojeh Avanesian, the head of finance for Yahoo's Santa Monica-based media group, the operation led by Scott Moore. Avanesian sent this peppy goodbye note to colleagues earlier this week:
To my friends and family at Yahoo, I never thought I'd type these words, but after 7.5 years, tomorrow is my last day at Yahoo. I am extremely fortunate to have worked with such a great group of people. Keep fighting the good fight and take care of each other. I'll cheer for you, I'll miss you, and I hope to see you succeed. Good luck to all of you. I can always be reached at [redacted]@yahoo.com. A wise man once said: "Yahoo! is not just a company… it's an idea. Yahoo! is what is possible, what is right, and what is worth doing. It's what others aspire to."