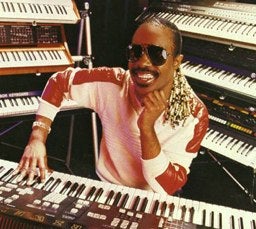 (Update: Stevie Wonder Cross another address off your Star Maps: Stevie Wonder is the second celeb in eight days to lose his home to fire, reportedly suffering a total loss earlier this week when the ongoing Sesnon blaze claimed his Porter Ranch-area manse. Wonder's house was one of 49 destroyed in the flames, which has burned 18,000 acres in the Valley since a downed power line sparked the wildfire on Monday. And as stunned as we were to hear the cost of Nick Nolte's own infernal tragedy last week, Page Six notes that the R&B icon lost way, way more than a cardboard cutout of Jesus. (UPDATE: The Wonder house survived! More after the jump.)
"Everything was destroyed - all of Stevie's memorabilia, photos, musical instruments, history, clothing, furniture, everything," said our source. "It's all gone. It was his main residence and he is utterly devastated. Stevie's had to put his tour and appearances on hold while he deals with this." Wonder's personal rep couldn't be reached and a rep for his label, Universal Motown, declined to comment.
Brutal. Wonder is currently on tour in Australia and New Zealand, where he'd face postponing eight shows indefinitely while attending to the disaster. Failing a mournful, Nolte-esque encomium for the torched belongings today on HuffPo, we'll piece together an inventory as details trickle out. Heartfelt Defamer condolences in the meantime. UPDATE (9:20 a.m.): TMZ now notes: "Contrary to news reports, Stevie Wonder's house did not burn down in the L.A. fires. He just called to say it's bulls**t." So who tipped Page Six? Liz Rosenberg? UPDATE (12:45 p.m.): Wonder's representative issued the following statement to Reuters: "I'm grateful to say that my house was not burned down in the fire. I extend my sympathies to anyone who may have been touched by this horrendous event." Us, too.