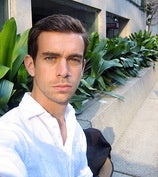 The good news: Jack Dorsey, the handsome programmer ousted as Twitter's CEO yesterday, can
put his nose ring back in
and stop seeing that CEO coach he hired. The bad news: His cofounder, Ev Williams, who's replacing him as CEO, is sugarcoating Dorsey's exit. Dorsey is
not going to be working in Twitter's office
, and his coworkers are
saying their tearful goodbyes
; he's effectively out of the company, though he retains the title of chairman and what is presumably a large stake in the messaging startup. So why did Dorsey get fired?"This has nothing to do with the economy," Fred Wilson, a partner at Twitter investor Union Square Ventures,
told The Deal
. True enough — but it does have to do with Dorsey's incompetence. One industry insider says he botched several acquisition offers — one by nattering on about his original idea for Twitter as a
messaging service for ambulance drivers and bicycle couriers
, an idea he still wanted to pursue after a Twitter acquisition.