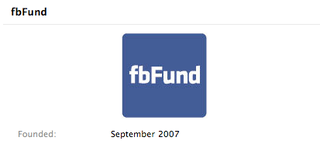 It has taken Facebook more than a year to pick the 25 winners of its
FBFund grants competition
, who have received $25,000 prizes. And now those 25 can try for $250,000 more,
according to Facebook's FAQ
: "The top 25 applications [in round I] will receive $25k grant. After Round I the top 25 may resubmit to apply for one of five $250k grants awarded in Round II." So if you win both grants, you get $275K, right? Wrong!By Facebook's math, one $25,000 grant + one $250,000 grant = a total of $250,000. In announcing the Round I winners, Facebook's Catherine Lee
pulled a $225,000 figure out of thin air
: "Once round two closes in December, we will announce our five finalists, each of which will receive up to an additional $225,000 in funding." I'm sure Facebook flack Elliot Schrage has some highly entertaining explanation for this which he will deliver straightfaced to other reporters, who will then call us and howl with laughter. For now, we're content to just blame Sheryl Sandberg.