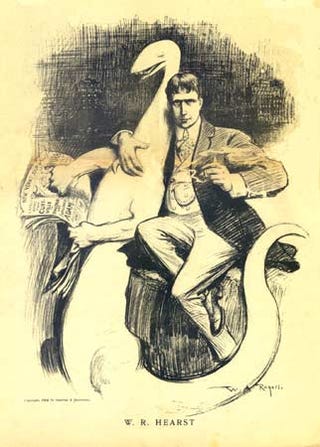 Oh no! Bad things are happening to the already trod-upon desolate dead-eyed employees of the mighty Hearst Company! The magazine business sucks, and the economy's cratering, and
CosmoGirl
closed, so Hearst has decided that this year
there will be no Hearst Christmas Party.
Ye gods! Last year the party already moved from Tavern on the Green to their
office
(it's a big fancy brand-new office, but
still
), who knew there was yet more indignity to be suffered. This is a bad sign, for America. Now we are officially in another depression. Surely William Randolph Hearst threw opulent Christmas parties during the Great Depression, right? (Well, the Depression saw Hearst lose control of his company and sell off many of his vast and glorious treasures. But he
still threw parties dammit.
) This Depression must be even Greater! It's official! The only chance Hearst has of making it through the coming dark times is to gin up support for a foreign war, probably. Can we get
Marie Claire
to work on the Spanish threat, people? The fate
Christmas itself
hangs in the balance!